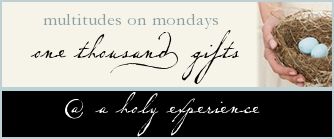 That's how we were taught to always begin our prayers. The day is a good thing to thank Jesus for first…without the chance to live to this day, so many other blessings would be lost. I love how Jubilee misinterpreted this and always began her baby-prayers: "Jesus loves me…" So cute!
495. the letter I got in the mail
496. the letter I still have to respond to 


497. Birdie, my constant and brilliant "idea-bouncer-offer"


498. our "writer's conferences" late at night, discussing my not-yet-existent novel
499. all of the delicious, nutritious and sometimes exotic meals Sabrina has cooked for us over the past few years…thanks to the marvelous chef as well!
500. the pleasure my family, friends and I gain from sharing funny Jubilee quotes
501. dinner out with the family, even if the restaurant was very loud and crowded
502. good news about a baby we've been praying for-the cancer has shrunk and not spread!
503. my piano teacher who was so kind as to let me reschedule my lesson last week when I was hungry and unprepared!
504. making fun plans for this Summer
505. my mother who deserves for every day to be Mother's Day
506. watching a funny movie with my sisters and mom and Mother's Day evening
507. Genevieve, my ipod, who makes chores go by faster
508. watching Willin sing and do motions with the children's choir on stage Sunday
509. watching Jubilee's baby dolls "help" her with her chores
510. the fact that my future-brother-in-law got into both the classes he needed to graduate
511. my first letter from my sponsored child!
512. all of the precious humming birds that have been buzzing around our yard lately
513. watching my dad and Birdie creating contraptions to take close-ups of the hummingbirds
514. 1 Samuel