"Truly He taught us to love one another,
His law is love and His gospel is peace.
Chains he shall break, for the slave is our brother.
And in his name all oppression shall cease."
–O Holy Night by Placide Cappeau de Roquemaure
Christmas is a time to celebrate and be joyous, but that leaves no excuse for trampling anyone, despite what Black Friday shoppers seem to think. During this season of Advent, we should be particularly conscious of the needs of others. 'Tis a season of giving, not grabbing. This year, many people will spend Christmas on the farm or in the factory where they are enslaved. They will have no time off for the holiday and no Christmas bonus. Remember these people as you celebrate with your friends and family and think of them when you do your shopping.
Fair trade purchases ensure that the money you spend goes back to the laborers, helping them to support themselves and their families. What better way to show your kids or friends that Jesus is really the reason for the season than by giving them gifts that seem to say, "truly He taught us to love one another"? What better way to give back this year than by being a part of breaking the chains of our slave brothers and sisters?
That is why I've come up with 8 Fair Trade Stocking Stuffers. I hope you enjoy this list of ideas!
1. Theo Holiday Chocolate Bars
These cute and tasty fair-trade treats are available at Kroger in the organic section, on Amazon and at theochocolate.com. The chocolate industry is a huge battle ground of modern-day slavery and buying products that use ethically produced cocoa is important.
2. Justin's Chocolate Hazel Nut Spread
Justin's products are not certified fair trade, but I believe they use fair trade cocoa. Stuff a stocking with these easy-squeezy packets of Nutella-alternative or a whole jar for that crazy fanatic! Justin's various delicacies are available Kroger, on Amazon and at justins.com
3. Gorgeous earrings from Noonday Collection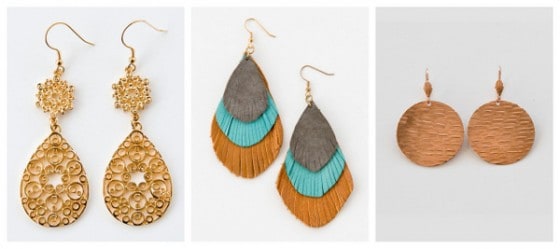 Noonday Collection is a huge fair trade company with lots of beautiful products, but their earrings strike me as a particularly nice thing to pull out of one's stocking. Gift these to a sister or friend and they'll be impressed with your excellent taste. ;)
4. Ornaments 4 Orphans
To quote part of their mission statement, Ornaments 4 Orphans stands to: "empower indigenous artisans through the fair-trade purchase of their products, invest in the holistic care of orphaned children with our profits and provide customers with a seasonal opportunity to purchase items that bless others." We bought one of their glass beaded stars this year. Really lovely!
5. Wood Block Stamps from Connected Goods
I had a really hard time deciding what to share from Connected Goods. They have a huge selection of beautiful products. However, these stamps struck me as unique and special stocking stuffers, so I'm displaying the hummingbird stamp. I also love the goldfish!
6. Toys from Come Together Trading
Come Together Trading started right here in Texas! They have products from all of the world in their Tyler store and also sell online. One thing I love from them is their toys. The wooden toy tractor, the miniature animals and the finger puppet nativities are all adorable. I gave my mom a set of their bird chimes last year…very cute.
7. Fair Trade "Reese's" Alternatives
I don't know about you, but there's just something about the combination of peanut butter and chocolate that brightens my day. We are no longer buying our beloved Reese's because they are likely made with unethically produced cocoa, but we've found some delicious alternatives. Try Newman's Own (they're not just for salad dressing anymore) or Justin's. Buy them in the organic section your grocery store or online.
8. Punjammies!
I really can't say enough about Punjammies. Adorable pajamas made by women who have been rescued out of forced prostitution in India…well, I wrote a whole review of them for Adornabelle! The girls in my family love these. I would not be opposed to pulling another pair of these out of my stocking on Christmas morning!
How about you? Have you found ethical stocking stuffers this year? Please share!
Other Resources:
–"All's Fair" (my Pinterest board for all things fairly traded!)
–Gifts that Give Back shopping guide at rageagainsttheminivan.com
–Ethical Shopping Guide at theartofsimple.net