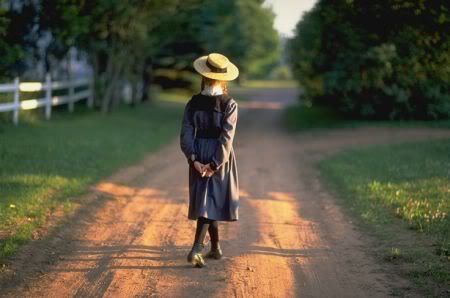 "Once upon a time we all walked on the golden road. It was a fair highway, through the Land of Lost Delight; shadow and sunshine were blessedly mingled, and every turn and dip revealed a fresh charm and a new new loveliness to eager hearts and unspoiled eyes. On that road we heard the song of morning stars; we drank in fragrances aerial and sweet as a May mist; we were rich in gossamer fancies and iris hopes; our hearts sought and found the boon of dreams; the years waited beyond and they were very fair; life was a rose-lipped comrade with purple flowers dripping from her fingers. We may long have left the golden road behind, but its memories are the dearest of our eternal possessions; and those who cherish them as such may haply find a pleasure in the pages of this book whose people are pilgrims on the golden road of youth."
-The Forward to "The Golden Road" by L. M. Montgomery
Hello Dear Ones,
Isn't it a splendid sensation to feel happy for no apparent reason? I think it is. I feel happy right now (in a way that reminded me of our favorite red-head; Anne; pictured above) for simple reasons. Reasons that I could be happy about any day. I must remember to be happy about them more often. I am happy to be writing. I am happy the sun came out this morning and that my future is always bright. Did you know that? I didn't know that until recently, but it is true. My future, no matter what, is bright. That's something to be happy about. I have so many things to write about. I have them all split up into different categories (which would normally be different posts) but who knows…perhaps they'll make appearances right here. Anyway, I am leaving my days of depression behind. Those three or four days were miserable and very inconvenient. They were sinful too, because they were self-centered and unhelpful to my family. And they were only the result of Satan tempting me further and further from the Lord. That should be the last thing I want to happen, so with prayer and a bright outlook, I am looking forward and being happy. Decidedly happy. I have made the choice to be happy. It is much better that way. I have made up a recipe for living the way I want to be living. You see, lots of changes are very suddenly happening in my family. God has continued to bless us all with good health and general well-being, and He has been gracious enough to bring these changes around gently (He never gives us more than we can handle) but still, they are changes. I am practicing my optimism every day and my placement of trust in God and my parents. I am practicing my sunny disposition and the art of relaxing. As the only thing to fear is fear itself, the only thing to worry about is getting worried. It is such a hassle and the bible says it is wrong. I am trying not to do it at all, but am quite proud of myself for simply not doing it very much. One of the changes is that my dear, dear oldest sibling has moved out. Yes, Joey has become the first to leave the nest. I am very thankful that he is still in town, but still, it is an odd feeling. I've never been one for odd feelings. Another is that my little sister; Bunny; is enrolled in public high school. I don't want to write about it much (I may break my good non-worrying streak if I do) but all I have to say is that my parents are very in tuned to all of their childrens' needs and have sought God's will for all of us, and through prayer, have enrolled Bunny into classes that will suit her. She has a untitled learning disorder and has not been thriving, as the rest of us, in the home environment. I never wanted it to come to this, but as my parents have talked me through it, I feel better and better. It will be very specialized for her and she is very excited. She will attend her first classes Monday and will be taking the full load of seven periods five days a week. We shall see how it goes, but once again, we are being hopeful! Other changes are no less radical but more personal, so I will leave you with only the knowledge that they exist. All of this to say that it seemed like a good time to reevaluate my own life and to decide if I am spending my time the way I want to be. The answer is no. Lately, my time has been primarily accomplishing the absolutely necessary and moping around, bored, discouraged, dejected, hopeless, unorganized and without any glances toward my future (even the near future) for fear of seeing something that isn't to my taste. This is a shameful way to live and I am ready to change. Yes, did you hear me? Everly is asking for change! It is coming anyway, why would I want to be left out when I could hop on the fast moving train of time and join the fun? (Can you tell I use a lot of psychology on myself?)
Anyway, I am going ot have to change in some ways, only because the people around me are changing. Other ways, will have be betwixt The Lord and I. Here is my previously mentioned recipe. I call it "The Roast Beef Life For Everly's Current Circumstances":
1. A few helpings more of sunshine and fresh air than usual
2. Good, healthy, living books and time set aside to read them (more on this in a moment)
3. Service to the family in whatever way needed. Hard work. Goals. Good attitude
4. Writing. It is ridiculous how little I work on my so-called "beloved novels." And I also have a new project of a different sort…
5. More organized lessons in home keeping. More cooking, a better understanding of business and money, driving (yes, if I must) and the care and keeping of babies. I'll have to rent one for this lesson.6. Keeping my room clean. I am much too old to struggle with a messy bedroom. It depresses me and overwhelms me and causes me to not want to come in her to write or embroider that drawn-out pillowcase project or read.
7. Give up complaining. For good.
8. Study the bible. I am consistently about a month behind on my Bible In A Year goal. Theoretically, I should be done October First. I must keep that goal!
9. Time set aside for prayer. And, studying prayer. It is more interesting and beautiful than I ever knew.
10. Helping with the children, reading to them, taking them on walks, conversing with them, praying for them, answering their pesky questions with patience and making sure that when I leave the house someday, I have no work left undone in my relationships with each of them.
Yes, I know that that became more of a to-do list than a recipe, but each of those things plays a vital part in my being satisfied with myself.
About the reading: I finished Rufus M. and am working toward the end of The Napoleon of Notting Hill alas. Then, I will read either "Anne of Windy Poplars" or "To Kill a Mockingbird." The reason being, I am borrowing both of those books from friends and I want to return them in good time. After that, either "The Hiding Place" or "The Golden Road" or any of my other four billion books on the waiting list. But only things that I will benefit from. Oh, and I drew a conclusion today. I have this uncanny love for L. M. Montgomery's books. It isn't that I just like the style or the characters or the stories. There is this feeling I get when I read it that sometimes overwhelms me. I'll open it up and love it so much that I'll suddenly shut it and stick it back onto the shelf. The feeling is almost like adoration and jealousy mixed together, but I finally figured out what it is today when I read this on the back of our copy of "Pat of Silver Bush" by L. M. Montgomery:
"Pat came dancing down the hill that night on feet that hardly seemed to touch the earth. She halted under the Watching Pine to gloat over Silver Bush, all her love for it glowing like a rose in her face. It had never looked so beautiful and beloved. How nice to see the smoke curling up from its chimney! How jolly and comfortable the fat, bursting old barns looked, where hundreds of kittens yet unborn would frisk! The wind was singing everywhere in the trees. Over her was a soft, deep, loving sky. Every field she looked on was a friend. The asters along the path were letters of the poem in her heart. She seemed to move and breathe in a trance of happiness. She was a reed in a moonlit pool…she was a wind in a wild garden..she was the stars and the lights of home…she was…she was Pat Gardiner of Silver Bush!"
Yes! That was it! That was what I love about L. M. Montgomery's work! In everyone of her books she points out the little things. She appreciates the details. She has a love for nature that shows through her writing and a gratefulness for beauty! That's what I love and that is why I sometimes have to stop reading it. Because I love it so much and wish I was more like that. From now on I will try harder to be! So my reading will consist of more Montgomery…and Alcott and Lewis and other unfinished favorites.Yes, I think that is what I wanted to say to you today. If you read this entire post, you get an A+. I think that I have properly arranged my mind and will save the rest of my thoughts for future posts. With this, I bid you adieu on a happy note.
Good Afternoon, Everly Pleasant
P.S. I think that this is a record breaker…longest post and with the most labels!
(I tried to post this a moment ago and got a warning saying that I had used too many labels! I had remove several…)